KingsFans.com
My favorite memory of a Kings-Spurs game.
​
Another week like the last two, and Bajaden will once again reign supreme! Wait, what did you say about our draft picks in 2017? I'm hopeful a home stand and some practice will tighten the loose nuts. Oh yeah, and DC is back. On to the rankings!

NBA.com
#21 (+1?)
Dave Joerger has slowed the Kings down considerably. After leading the league in pace last season, they rank 29th this year. That may be one reason why eight of their 11 games (including each of the last four) have been within five points in the last five minutes. They fought back from a double-digit deficit in Portland on Friday, but couldn't get stops in overtime. They're now in the middle of four days off before a five-game homestand....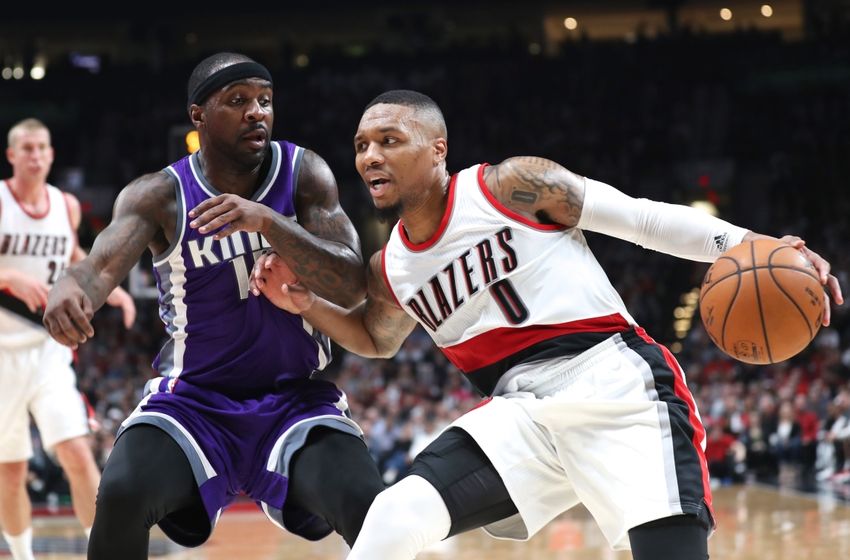 kingsfans.com presents
Kings Week in Review: Weeks Two and Three
​
by Stephen Tetsu, Also a Subpar Rebounder

This picture of Lawson struggling to keep up with Lillard seems about right.​
The first week went great and probably above expectations. The second week was, well, a different story. The third week? Somewhere in between. But such is life in Kingsland, a strange magical terrain in which this week's "We're going to the playoffs!" becomes next week's "Blow this team up!"
In case I haven't made myself clear over the years of writing dumb stuff about the Kings and sports in general, I've always found the overreactive zero-to-one-hundred aspect of sports fandom to be the dumbest part of the whole twenty-first century sports experience. You either have to be the best or the worst and there is no room...
"Following Thursday's game, the Kings allocated their three rookie first-round picks -- Georgios Papagiannis, Skal Labissiere and Malachi Richardson -- to the Reno Bighorns. The trio are expected to spend plenty of time in the D-League this season. "

This goes back to last season's team ridiculous winning 6/12 last games while already staring at 44 losses;they were meaningless wins that hurt the draft order - had they tanked it they might've had Hield, or certainly not a pick going to the Bighorns in his first year. There's little confidence in your rookies if you're sending them down. Drafting for D-League is a waste of time for a non-competing team when the team needs big help in shooting and you're owner is a tightazz with money - ok'ing only FA scrub contracts. Once more losses pile-up, watch the flat tires fall-off. Close losses give a bit of comfort, but ultimately show that the management still failed in Free Agency/Drafting - indeed, especially drafting.
Link to Boxscore
Starters
Gay ( A )
-- for much of this game had a "+" next to his A while playing one of the smartest and toughest games of #2 guy he's had since arriving in Sacto. he hustled, he attacked and attacked. But in the end he had the game on his fingertips not once, but twice in the final 15 seconds of OT, and both times he came up short, and hence there went the "+", and the "W".
Cousins ( A )
-- for part of the night Cuz had an A+ too, as through three quarters he had stayed strong, been a handful, and he'd kept relentless even in the face of mugging and cheapness from Meyers Leonard, of course. but when he returned in the mid-4th to close it out he initially failed badly, going 0-3 with 2 TOs. And did not recover the solid A until his heroics tied the game in regulation and put us up in OT.
Koufos ( B )
-- the...
Nice shooting fellas!

Well that was frustrating. Cuz did not have a great game, raw numbers aside, but at least his lack of great game could be explained by the Lakers piling up on him. What was catastrophic was the REASON they were able to pile up on him. If I grabbed a pair of sneakers out of my closet I might have represented a bigger threat to score from the Lakers' perspective than the rest of our team.

By the way: this one is also on Joerger. The team could not score. Not at all. 36 second half points. Long FG droughts. He left in Lawson too long when he was killing spacing and we never recovered momentum it seemed. And then with the team not scoring at all, he never even gave a look at Ben and Omri, both of who at least can shoot. It left Cuz out there alone, not only as our best inside guy, but as our best outside guy too. That's too big a burden for virtually anybody.

So...sucks. Not even sure what lessons can be learned here. Here's a lesson: hit your damn...
I want the Kings to win this game more than I've wanted anything so far this season. I want them to take the lead early, extend the lead and totally humiliate the Lakers and the obnoxious fans who tried to take over Sleep Train Arena. I personally would not allow anyone into Golden 1 Center wearing Laker gear, but I know that's against NBA rules so it's probably a good thing I'm not in charge of the staff manning the doors tomorrow night.

I hate the Lakers. I hate everything they stand for, I hate their colors, I hate their name. Mine is not a logical hate, and I can deal with that without problem.

Before every Laker game, I've always made one comment that continues to this day:

DIE LAKER SCUM!
kingsfans.com
presents:
Kings Week in Review, Week 1
​
By Stephen Tetsu,
KingsFans.com
Japan Correspondent

​
Hello Kings fans and welcome to another season of Kings basketball!
It's been a long road but Golden 1 Center is now open for business, half of the roster is brand new, and the media doesn't think we suck anymore. (Okay, that last one have been made up.) The point is the 2016-2017 NBA season is now well underway and things are thus far beginning to look up for our beloved royalty.
Then again, considering where we came from (the bottom of the bottom of the bottom of the barren bottom of rock bottom), anything aside from nuclear oblivion could be...