KingsFans.com
I wanted to look at our +/- numbers, how the various starting lineups had done, and then how the team had done at various points in the game. Below you can find statistical explanations for several nettlesome trends and decisions the Kings keep coming back to, but its largely the diary of a middling team, not a terrible one.
PART I -- On/Off
These numbers stress not only the overwhelming importance of Cousins/Gay (although Gay's offensive +/- has plummeted as he has come down to Earth the last two weeks), but also show how Tolliver, Willie, and Ben have fallen out the back of the rotation. You can also see the "Koufos" effect, where his presence makes a massive difference for us defensively (and is likely why Boogie, who has been a big + guy defensively the last few years, is now having his impact offensively -- Koufos did the same thing to Marc Gasol in Memphis), but he's by far the worst main rotation player on the team offensively. BTW, we are again actually...
Kangz gonna #Kangz.
On to the rankings!
​
NBA.com
#18 (+1)
The Kings would probably prefer to skip the first six minutes of every game. They've trailed after the first six minutes in 12 of their 17 games and they're the league's worst team in those six minutes, getting outscored by 24 points per 100 possessions (and allowing 123). Dave Joerger has used four different starting lineups in their last five games, but maybe DeMarcus Cousins is just slow to get going (at least defensively).
He's a minus-56 in first quarters and a plus-72 otherwise
. Monday's opponent (Washington) has been the league's
best
team in the first six minutes of the first....
Make no mistake about it -- we lost this game. Blew the opportunity. In fact no matter who came out ahead on the scoreboard here it was going to be a case of the other team losing the game, because because teams stunk with the sharp fetid stench of week old gym socks left in a pool of raw sewage under a hot sun.
That was just pathetic. From beginning to end, relentlessly. Only the silly level greatness of DeMarcus Cousins even bought us an OT, and with him out of gas and the whole Wizards team appropriately ignoring the other ballboys wearing our uniforms, we now fall to 0-3 on the year in OT games. The basketball, on both sides, was terrible. If you watch these things on delay, just delete it unseen and use those precious hours of your life on something more enjoyable. Which is to say virtually anything.
Link to Boxscore
Starters
Gay ( D+ )...
kingsfans.com presents
Kings Week in Review: Week 5
​
by Stephen Tetsu, also complains about lack of playtime to foreign press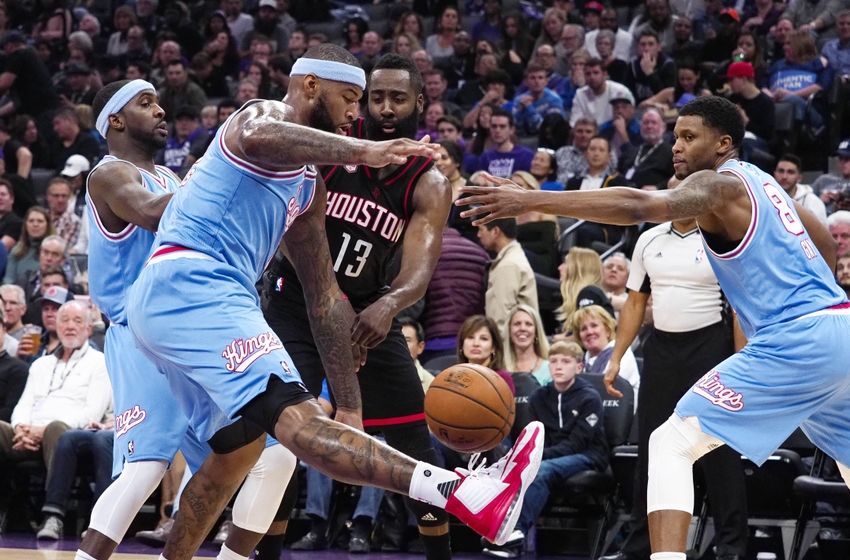 Boogie'd probably be a beast at soccer too.
​
Well that was certainly a week. After coming off of Week Four with the usual parties predicting doom with the other usuals countering that, the Kings played a gung-ho Week Five, featuring a solid win over the the Thunder, an incredibly-awful-start-fueled loss to the Rockets, and an also-awful-start that turned into a win thanks to the Kings simply being better than the Nets.
It was ugly at times but, when it comes down to it, the Kings went 2-1 this week,...
We are apparently bad men. Very bad. Bad BAD men. And we must be punished for the safety of the innocent. Luckily we have NBA refs around to ensure that the poor dears we play won't get their makeup smudged.
So anyway, we once again started sluggish. Just cannot seem to shake it. And while the bench stabilized it, it wasn't until after halftime that we turned up the pressure and clearly established who was the better team. The refs briefly tried to make a game of it in the early 4th with a whole string of whistles, but all they could do is force us to put the starters back in to reestablish order, and we're 7-10 with a winnable game tomorrow.
Link to Boxscore
Starters
Gay ( B+ )
-- this probably deserves another tick, but the thing is I just was not very happy with Rudy to start this game. He seemed sluggish again, his shots were ill...
Kings go into Washington having won three of their last four games. They've got a real chance to get their first back-to-back wins.

I don't care what anyone else says ... I'm seeing improvement. I'm seeing more things to be hopeful about than things to be worried about. That doesn't mean I'm happy but I'm hopeful. Dave Joerger and the guys are reading from the same book and that's a big change from last year.

#GoKings

#SacramentoProud

#ILoveThisTeam

#FreeBarnes
The Kings have made the news (or record books) more than once, with the number of 3pt shots attempted or made against them.
I seem to remember that we are the unwilling
record holders for most 3-pointers allowed per season in the history of the NBA
- a record we set last year.
In their game against us the other night, the Rockets broke the all-time record for most 3-pointers
attempted
per game (50), and came only 2 shots shy of the NBA all-time record for 3-pointers
made
per game (21 vs the record of 23).
I thought it might be interesting to research our 3pt D in a more detailed manner.
Fortunately, the "Player Tracking - Defense" feature makes it quite easy to do.
For instance, I didn't even need to go back to the video to check how many threes were made on each of our players last night.
So...
Which King was torched from the three last night
?...
Demarcus Cousins and Coach Joerger said it best:
"If we play the way we play in the last five minutes of games every game this season - from start to finish, we'd probably be undefeated," a clearly disappointed DeMarcus Cousins said following the Kings 117-104 loss to the Houston Rockets on Friday night.
"You win the second quarter, third quarter and fourth quarter, but we didn't come and bring enough force early in the game - not enough activity and not enough physicality," coach Dave Joerger said.
--From
CSNBayArea

They're on the road for the next 6 games, playing the Nets, Wizards, Sixers, Celtics, Knicks and Mavs. Here's hoping they can find a way to play with heart and intensity from start to finish.
#GoKings
1st Quarter:
Rockets 38
Kings 19
remaining 3 quarters:
Rockets 79
Kings 85
I don't mind the idea of losing to the Rockets -- all along I was just hoping for 2-1 over the last three home games. But it's the how of it that irks as we gave it away early by coming out dead flat and not ready to play, and Rudy needs to be slapped, hard. With aftershave after his face is nicked up.
Then Temple very obviously came in in the 2nd and began to singlehandedly wake us up with hustle and D up top. Omri got to play, struggled for a bit, but eventually fed off Temple's energy and joined the hustle party. From that point onward we outplayed the Rockets, but the hole had reached a ridiculous 29pts so just no way to get all the way back.
Link to Boxscore
Starters
Gay ( D- )
-- so very close to an F for this. Simply Did. Not. Come. Out. To. Play. Which is...
OK... without question Dave has a ton a great qualities.

Pros:
Made a point to earn Cousins trust and support (HUGE)
Has a great demeanor doesn't call out players or embarrass players via media
Better offensive system
Draws up great set plays
Preaches defensive and has installed a much more effective defensive system
Theres probably more but those are the basic pros

HOWEVER.....

HIS ROTATIONS HAVE SINGLE HANDILY COST THIS TEAM IN EVERY LOSS

I'm extremely concerned about how awful his feel for game with the roster and personnel is.

In his defense .... Theres a high amount...8 experienced mid level talent veterans on this roster. Then theres Gay, Cousins, Collision our big 3... and the non factors WCS +rookies. So He has waaay more options to mix and match with the big 3. So i get that it could take a min to do that. BUT.... some of these changes seemed SO OBVIOUS TO EVERYONE EXCEPT DAVE!!!

For example not starting KK and Cousins together... That was obvious immediately to...